To celebrate the company's growth in the South Florida market, Ozinga held a ribbon-cutting ceremony today at their new Miami facility, located at 2175 NW 17th Avenue. Executives and coworkers from the company, representatives from local government entities, and industry professionals were in attendance to officially welcome Ozinga to South Florida.
On Monday morning Culver's of Valparaiso's team surprised the Ideas in Motion staff by bringing custard to their CEO and Founder, Chris Mahlmann. The generous gesture was to notify Chris that he has been nominated as "Culver's Custard Hero," a nationwide campaign to recognize those who impact the community and individual's lives.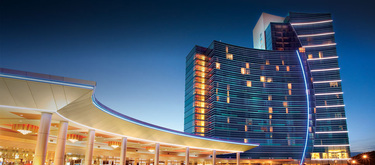 Along with being one of the region's top tourist attractions, Blue Chip Casino, Hotel & Spa is a major force for economic success in Michigan City, La Porte County, and Northwest Indiana. The casino's success has had a lasting impact on the prosperity of the area, in general, but also on the organizations who continue to benefit from Blue Chip's philanthropic endeavors.
Ozinga is a fourth-generation family-owned American business providing concrete, materials, energy and logistics solutions. For over 85 years, Ozinga has offered the highest quality and best service in the communities where we live, work and play.
St. Catherine Hospital has received the Economic Development Award from the City of East Chicago. East Chicago Mayor Anthony Copeland recognized the hospital for renovation and capital improvement projects that demonstrate an ongoing commitment to investing in building improvements and technology that advance the quality of healthcare in East Chicago and Northwest Indiana. This is the second consecutive year that St. Catherine Hospital has received the Economic Development Award.
Century 21 Alliance Group of Valparaiso hosted its annual Group Awards Wednesday night to celebrate another successful year for the brokerage firm and its hardworking agents and staff.
It was a no brainer for the staff at Zao Island to walk across the street and ask Jack Hines of Hines Plumbing Inc. to help out with a project.
Chester Inc., Information Technologies (IT) has been recognized as a Platinum Partner with back-up and disaster recovery solutions specialist StorageCraft [Draper, Utah.] StorageCraft provides award-winning backup, disaster recovery, system migration and data protection solutions for servers, desktops, laptops, and SaaS applications in addition to powerful data analytics. Chester Inc., IT is excited to offer its clients a cost- effective and comprehensive Data Storage, Data Protection, and Data Recoverability platform to reduce downtime, improve security and stability for systems and data. "The StorageCraft solution is perfect for organizations that need an enterprise class back-up and disaster recovery solution at small business pricing", states Chris Kotul, Division Manager at Chester Inc., IT. "We've formed a strong...
The Mascot Hall of Fame began as a website, so the Hall of Fame could have taken roots anywhere, but it seems to fit in perfectly with the family friendly events Whiting already hosts on a regular basis.
You never know when you'll need something printed. Your work or organization may task you with the project, or perhaps you will discover a personal reason to print something. Whatever the reason, there's a few things you need to know before dropping off that 200x100 .jpg file and expecting it to work on a billboard.
Oak Partners threw a successful day of barbecue, beer, and basketball. About 110 clients were invited to True BBQ and Whiskey Bar, where they spent time getting to know each other, all while enjoying some March Madness college basketball.