During May, NWI Innovators of the Month shines the spotlight on new Society Members – Sheena Marrell; Mark Mabrito, Ph.D.; Pam Wheelock; and Kathy Sipple. Highlighted below is Sheena Marrell and her son Richard, the first mother and son team in The Society. Also featured is Dr. Mark Mabrito, Ph.D., Purdue University Northwest. All are being celebrated as part of the 2016 – 2017 Class of Innovators, the largest group inducted into The Society of Innovators. The Society is part of Ivy Tech's Gerald I. Lamkin Innovation & Entrepreneurship Center for Excellence. For information, contact O'Merrial Butchee, Director, Lamkin Center at (219) 981-4942, or John Davies, Managing Director, Society of Innovators at (219) 981-1111, 2292.
Jimmy Cameron, a commercial technician for Overhead Door of Northwest Indiana, was born in Crete, Illinois, but has lived in Crown Point since he was 20 years old. He has been with the company since 2004 and been working ever since with customers to fix and repair garage doors.
Valparaiso University announces that Panayiotis (Peter) Kanelos, Ph.D., who serves as dean of Christ College — The Honors College, will step down at the end of the 2016–2017 academic year to become the 24th president of St. John's College in Annapolis, Md., the third oldest college in the United States.
Northwest Indiana financial firm, Lakeside Wealth Management, recently added Senior Advisor, Tom Muldowney, to its all-star team.
Deborah Atsas' plan was to stay in the geriatrics field of medicine for only a year before becoming a Registered Nurse, but within a few months she realized she had found her passion. Atsas has been the Executive Director of the Rittenhouse Village at Valparaiso for the last five and a half years at the assisted living facility.
Theresa Kessler, Ph.D., RN, ACNS-BC, CNE, who has been a member of the faculty at Valparaiso University's College of Nursing and Health Professions for more than two decades, received the University's Award for Excellence in Research and Creative Work for 2017.
Kurt Kazmierczak is another piece in the formation of CCSK Law and is another lawyer doing law a little differently. Kamierczak focuses on bankruptcy and criminal law and, as with his fellow attorneys of CCSK, it took him a few twists and turns to reach this part of the path.
As a member of the Team Chevy sales staff, Dave Volk has been selling cars with the Valparaiso-based auto dealer for over thirteen years. Volk does, however, have many more years beyond his time with Team Chevy working with automobiles.
On Thursday, members of the Valparaiso Family YMCA met for their Annual Meeting at Aberdeen Manor in Valparaiso. It was a night to recognize the organization's accomplishments over the past year and to also award volunteers and staff for their loyal service to not only the organization, but to the Valparaiso community.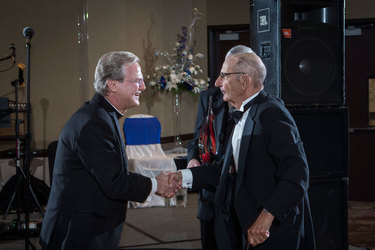 Joseph E. Costanza, an East Chicago native and St. Catherine Hospital board member has been honored by Calumet College of St. Joseph for distinguished service to the community. The St. Joseph the Worker Award recipient was announced during the 52nd annual Trustee's Scholarship Ball held at the Center for Visual and Performing Arts in Munster.
Ryan Turner, Sales Representative for BucherTech, was born and raised in Tennessee but has lived throughout Porter County for 30 years. This past Monday, Turner started his career with BucherTech and is already enjoying the team-oriented, Valparaiso-based company.