This morning Chief Brickner and Mayor Jon Costas sworn to duty three new police officers at a ceremony in City Hall. Numerous officers, friends, family members and city employees attended the ceremony. The three officers sworn to duty were Stefan Kljajic, Joseph Cowser, Reuben Ingram.
"In the end, we will remember not the words of our enemies, but the silence of our friends" - Martin Luther King Jr.
The people of Hammond demonstrated this morning that they will not stay silent in the current tumultuous political landscape, but will raise their voices to praise Martin Luther King Jr. and his teachings.
The City of Hammond invites residents and interested persons to the second community workshop taking place on Thursday, February 16, 2017 at 6:00 p.m. at Kenwood School, 6416
Since 1990, Johnny On The Spot has been delivering quality portable restrooms to customers across Indiana and Illinois. In carrying some truly remarkable portable restrooms, Johnny On The Spot is able to cater to whatever type of restroom you might need.
The dangers people face in today's society are concerning. Stories of active shooter incidents, workplace violence events, assaults and abductions have unfortunately become common in our news. Women are often targeted by criminals in many of these areas. While these dangers are real, people needn't sit idly by, waiting to become victims. Vertex Improved Performance a Valparaiso-based company specializing in crisis preparedness is drawing a line in the sand.
This July of 2017, Frontline Foundations will be celebrating its 10th year anniversary. The organization is a certified substance and drug abuse outpatient treatment center with unique recovery program techniques. They are a small organization, but one that deals with big issues with big hearts and big dreams for their clients.
Porter County Recycling & Waste Reduction invites non-profit organizations and schools to register for its second Reuse Fair, scheduled from 9 a.m.-2 p.m. Saturday, April 22, in conjunction with the Northwest Indiana Earth Day Celebration at the Porter County Expo Center, 215 E. Division Rd., Valparaiso.
The Valparaiso Fraternal Order of Police Lodge 76 has named their Patrol Officer and Supervisor of the year for 2016.
Your involvement has had a major impact on our success by making the following plans become reality. We simply couldn't do it without you.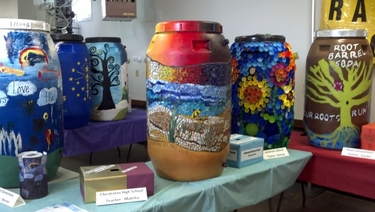 Schools in Lake, Porter and LaPorte Counties are invited to participate in the fifth annual School Rain Barrel Design Competition. The event will take place at the 2017 Northwest Indiana Earth Day Celebration at the Porter County Expo Center on April 22.
Following several recent tragic house fires across the state, Fire Chief Jeffery Smith is urging Hammond residents to be extremely careful in their use of alternative heating sources, such as space heaters, which are involved in roughly one out of every six such fires.