Serving
The Porter County Community Foundation was presented with a $50,000 check from Lakeside Wealth Management in support of the Foundation's Tomorrow Starts Today campaign.
Attention high school students: Jacob's Ladder is currently partnering with local high schools to help kids meet their volunteer needs.
1st Source Bank was pleased to partner with the Westchester Public Library for their third annual Money Matters! Program.
When an important member of the Northwest Indiana running community passes away, a race held in their memory is a fitting way to gather friends and family in their honor. Liz Scott, wife, mother,teacher, and cross country coach was tragically struck by a car while running on the roads of Chesterton. Hundreds of community members gathered at Coffee Creek Watershed Preserve on Saturday to not only run a three-mile course, but to also cope with the loss of a loved one together.
Dr. Larry McAfee, who we all know from McAfee Animal Hospital in Valparaiso, recently was bestowed with the Spirit of Scouting Award at the Dunes Moraine District Spirit of Scouting Dinner in late January of this year.
With everything going on in the world, it can be easy to forget about the struggles many local Indianans face. There are approximately 250,000 youth in Indiana who live in poverty, and without assistance, will be unable to go to college. When more and more occupations require at minimum a technical diploma, those who are unable to afford a post-secondary education will be left to perpetuate the cycle of poverty in their communities. Local non-profit, A Will for Welfare, aims to fix this problem.
1st Source Bank has donated $10,000 to Family Focus for their Kids In Difficult Situations (KIDS) Program which provides home-based therapy for families in need of services.
Partnerships are formed around great people with a common goal of contributing to the community. For NITCO, sponsoring the Valparaiso University's mens' basketball game on Thursday night was a no-brainer. Connecting a local company to the area's university brought together both familiar and new faces to a reception before the game.
The Purdue University North Central student-athletes have a long-standing commitment to volunteering where they are needed on campus in the local community.
SHIP volunteers had the opportunity to assist 166 individuals during the open enrollment period that wrapped up Dec. 7.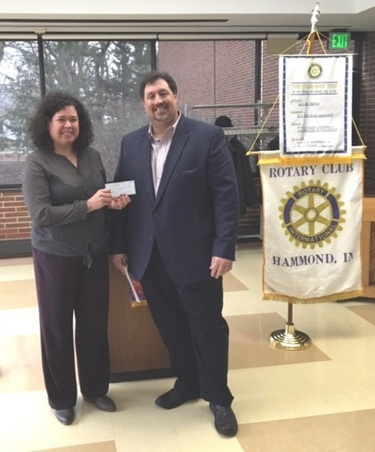 Martha Kozub, manager of Catherine McAuley Clinic, receives a $2,200 donation from Hammond Rotary Club president, Nick Loxas. The funds were derived from proceeds generated from the club's recent, annual fund-raiser for various city charities. The clinic, 5514 Hohman Ave., Hammond, has served underprivileged area residents since 1996 and is under the auspices of Franciscan St. Margaret Health-Hammond, 5454 Hohman Ave.
More Serving Articles: