The Lowell District of the Indiana State Police in conjunction with the Northern Porter County Traffic Safety Partnership will be conducting a sobriety checkpoint during the late evening hours in Porter County on Friday, March 17th, 2017. The checkpoint is in conjunction with Operation Pull Over Blitz #89, which runs from March 3th through March 26, 2017.
NIPSCO is reminding customers that bill payment assistance is still available after the state's moratorium on disconnecting natural gas service during the winter for eligible customers ends March 15.
Applicants must be 21 years of age and residents of the City of Valparaiso. State statute requires that the board must have at least one member from each political party. This year, party affiliation does not matter.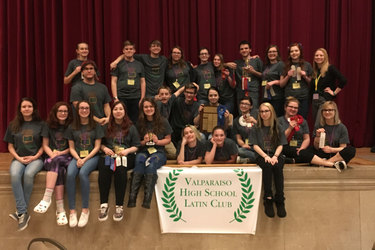 Twenty-four students from Valparaiso High School were among 324 high school and college Latin students who attended the Indiana Junior Classical League Convention March 10-11 at Indiana University in Bloomington.
Forty $1,000 scholarships will be awarded this year by the Indiana/Kentucky/Ohio Regional Council (IKORCC). Twenty of the scholarships are awarded based on scholastics and twenty by random drawing.
Saturday morning, Valparaiso's Noon Kiwanis Club hosted its 67th Pancake Day Breakfast, an annual fundraiser featuring delicious food, refreshments, and friendly faces.
This morning, at City Hall, three new Valparaiso Police Officers were sworn to duty by Mayor Costas. The three new officers are Thomas Zega 25 yrs old, Eric Jezierski 25 yrs old and Benjamin Teufel 26 yrs old.
Sandy Ring, left, an imaging department nurse at Franciscan Health Crown Point, is congratulated by Barbara Anderson, hospital president and chief executive officer, during a recent management meeting for Ring's potentially life-saving efforts to help a Demotte man after she observed a suspicious-sounding cough when the patient reported for a CT scan. A subsequent lung scan revealed a pulmonary embolism. A short time later, the patient went to the Emergency Department and also received treatment from the cardiovascular unit staff.
The Valparaiso compost site, 2150 W. Lincolnway, and the Boone Grove compost site, 400 West 550 South, will open for the season March 27, to give Porter County residents locations to drop off and recycle yard waste from spring yard cleanups.
Indiana University Northwest announced that two faculty members are serving as co-principal investigators on a project selected as a winner by IU's Regional Campus Grand Challenges Initiative. The program awards funds to regional campus faculty who are using multidisciplinary efforts that address complex challenges facing Indiana communities.
Purdue University Northwest celebrated Monday (3/6) the one-year anniversary of its founding (March 4, 2016) in recognition of when the Higher Learning Commission officially approved the establishment of Purdue University Northwest via the unification of Purdue University Calumet and Purdue University North Central.