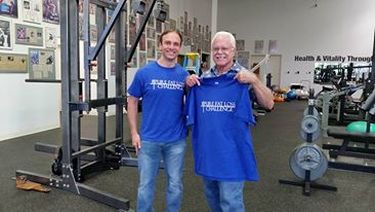 THE PURE FAT LOSS CHALLENGE (the PFLC) is a fun, unique and challenging 12 week, (starting January 1st) high accountability program designed to support, teach, lead and guide those who are serious about shedding their unwanted body fat. Most people find it fun being part of a team of motivated people all working towards the same goal.
Wouldn't it be awesome to shed off unwanted body fat?
It's that time of the year many of us have slipped from a new year's resolution 11 months ago. It's been challenging throughout the year with birthdays, Memorial Day, 4th of July, Labor Day, Halloween, Thanksgiving, upcoming Christmas parties, etc. Let's not forget "ground hog" day… You know what I mean, right? Where this year seems just like last year, which was just like the previous year and so on.
Before the turkey comes out of the oven and the pumpkin pie is devoured, families and friends of Northwest Indiana partake in a Thanksgiving tradition that promotes community-wide health. The 14th annual Turkey Trot, hosted by Porter-Starke Services, attracted 4,000 runners to Valparaiso High School this year. Runners of all ages took to the streets, competing in either the 5K or 10K. Though the race meant something a little different for each runner, the common goal of celebrating the holidays with family was shared by all.
Here's a unique new salad recipe to try, that's far from ordinary. With cabbage, green olives, chickpeas, quinoa and a lemony dressing, this salad really satisfies! It's fantastic as a meal all on its own, or to be served with a larger meal.
Is there anything better this time of year than a homemade casserole, hot from the oven? The comforting aroma and the heart-warming enjoyment of that first, delicious bite stay with you for days to come.
What is pilates reformer?
One of the best things about the reformer is its versatility. Excercises can be done lying down, sitting, standing, pulling the straps, pushing the footbar, perched on the footbar, perched on the shoulder blocks, with additional equipment, upside down, sideways, and all kinds of variations thereof. In other words the reformer can train many parts and dynamics of the body in so many different ways with just one relatively sleek piece of equipment.
My name is Brenda Barnhart. I'm 55 years old. (When did that happen?) In June 2016 I experienced a low period after a year of several deaths of family and friends, a slowdown of business and the pressure of being the sole caregiver for the last 12 years of my parents, a father with dementia and a mother with a form of Alzheimer's. During this time, I realized that everything else had stopped in my life except what was just in front of me, work and being home. I had stopped going out, going to the movies, or anywhere that didn't involve work or the entire extended family. No time, no energy, no one to cover me at work or home for an occasional respite were by excuses. Maybe this is my mid-life crisis, a little late.
Two of us 'LIFERs' here at Ideas in Motion Media have spent the summer preparing for our upcoming fall half marathons. Jenny Craig and I have put the hours in for training but we needed to take the next step to make sure we've got the equipment needed to have a successful race. Recently, we took a trip to Extra Mile in Valparaiso to gear up and learn about what we need to be prepared for our upcoming 13.1 mile trek.
Need Motivation?
A dose of motivation will change your life almost overnight.
Mornings are a little different at the Larson household since their daughter Skyler was diagnosed with Type 1 Diabetes over four years ago.
Mom Danielle counts the carbs for Skyler. Dad Robert pulls a Dexcom CGM – a small device that monitors Skylar's blood sugar levels automatically every five minutes and sends the results to the wireless monitor her father carries with him everywhere.
We have a lot of great information in this week's email. The Popcorn Panic is next week (September 10). If you have never participated, this is a fun annual event for all to enjoy as there is also the 'Lil Kernel run too!