With the rain over the past couple of days, we've had a few calls on what to do with your wet feet and shoes. It basically comes down to GOOD SOCKS & NEWSPAPER.
Now that everyone is winding down their summer vacations and getting ready for the start of the school year, it is time to get back into the swing of things. Here are some tips on how to lose some of those pesky vacation pounds from Franciscan's Kelly Devine Rickert, a registered dietician and health coach.
Looking for a quick healthy breakfast idea? Check out two of my favorites below!
I have never been athletic or very coordinated; in fact, clumsy so no sports in school for me. I had been thin most of my life, but when I got to college I gained that freshman 15, which prompted me to get to the gym. I loved it not only for the physical gratification but also the social aspect.
Everyone has stiff, sore muscles now and then. From overdoing it at the gym to sleeping in an awkward position, there are many reasons you might feel some muscular aches and pains. Some medical conditions or illnesses can also cause soreness. Several studies have found a remarkable, effective, inexpensive cure that is natural and safe – magnesium.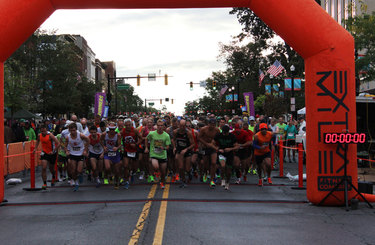 Registration for the Valpo Parks 38th Annual Popcorn Panic on September 10 is open online at RunSignUp.com. The race and walk start at 7:30 a.m. from Central Park Plaza. Individuals, families, co-workers and teams are invited to run the 5-mile course or walk the 5K (3.1 mile) course. This signature Popcorn Fest race offers a challenging course, a scenic tour of Valparaiso neighborhoods and a downtown finish line in the heart of the fest.
Looking to boost your energy levels and decrease hunger at night? A well-timed afternoon snack may just be your answer! While it is true that snacking too often, especially on salty or sugary snacks, can add pounds not shed them, a healthy snack (a combination of healthy carbs high in fiber and some lean protein) can help satisfy those mid-afternoon cravings and actually help you lose weight.
Over the last five years, Valparaiso has been making a conscious effort to incorporate physical activity into all aspects of life. Whether it was creating Central Park Plaza or implementing a skating rink downtown, Valpo has made uniting the town through fitness one of its highest priorities.
What is Pilates Reformer?
One of the best things about the reformer is its versatility.
Hospice Hustle 2016 is a peaceful ride of either 25, 62 or 100 miles through rural southern Lake County Indiana. Proceeds benefit non-profit Hospice of the Calumet Area, serving Northwest Indiana and surrounding Illinois communities since 1981. Your support helps us continue our mission to provide care to those facing a life-limiting illness.
Runners with pounding hearts, riders gripping their handlebars anxiously and families cheering from the edge of the trails are all participant experiences of the Tour de La Porte. An event that has been around since 2001, the Tour de La Porte has only grown, welcoming all ages, fitness levels and family sizes to enjoy La Porte's many trails, lakes and smiling faces.