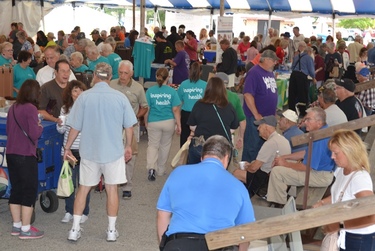 More than 500 attendees were on hand for the 15th annual Franciscan Health-sponsored Senior Citizens Day at the Lake County Fair Aug. 7. The program, in the Senior-Showcase Tent, offered information regarding the Accountable Care Organization, Franciscan Senior Promise, Franciscan Senior Health and Wellness, Franciscan Insurance Services, outpatient services, stroke awareness and palliative care.
Once a month the staff at Pines Village Retirement Communities are inviting all of the veterans living in the area to breakfast with them.
Rittenhouse Village at Valparaiso is hosting a free educational workshop about the VA Aid and Attendance benefit on Thursday, July 13, 2017 at 11:30 a.m. This event is open to the public and will take place at the senior living community, located at 1300 Vale Park Road, Valparaiso, IN 46383. Please call 219-525-1253 to register.
Those pesky, crinkly shopping plastic bags can be found in the most unwanted places. In our homes, in our cars, and - most dangerously - in our landfills.
Roy Miller is the new resident on the block at Symphony of Dyer. He moved to the facility in early 2016 and began settling down in his new home.
A century in the making, Ellen Magerl celebrated her 100th birthday with family and friends April 24 at Hartsfield Village Continuing Care Retirement Community. On hand for the celebration are (left to right) Joan Garritson, Kurt Garritson, Liz Magerl and Jim Ogura.
We are celebrating N.H.W. with the theme: "Spirit of America!" The Willows is showing our "Spirit of America," by celebrating the different cities throughout our country.
The 17th Annual Portage Senior Health Fair welcomed seniors citizens from around the Northwest Indiana to Woodland Park. The annual health fair brings hundreds of people and vendors together for free health screenings, valuable information about health and wellness, and fun events for everyone to enjoy.
Playful pups from the Humane Society of the Calumet Area are a welcome sight for patients and residents at Hartsfield Village Rehabilitation Center. Recently, Shelter Director Todd Howard brought a couple of frisky dogs to brighten the seniors' day.
When you have the information, you have the responsibility to share it. That is how Angela Boland views the services offered by the Symphony of Chesterton: To educate the community and provide the support and benefits they are entitled to.
In recognition of the 2017 Cardiac Rehabilitation Week, Feb. 12 to 18, Jim Campagna and Margaret Hansen were crowned the "King and Queen of Hearts" during a special celebration at St. Mary Medical Center. Both Campagna and Hansen are active members of the hospital's cardiopulmonary rehabilitation program.