College & Pro
The Valparaiso University women's soccer team has added another standout class to its program, as head coach John Marovich announced on Friday that nine future Crusaders have signed National Letters of Intent to join the Valpo program as freshmen for the 2016 season.
One homegrown Hoosier and a few players and coaches who called Indiana home for a period of time will be involved in Sunday's Super Bowl 50 matchup between the Denver Broncos and the Carolina Panthers.
Raiders Outlast Crusaders, 65-54
Jasmyn Walker (Muskegon, Mich./Mona Shores) collected her seventh double-double of the season Thursday night versus Wright State, but the Raiders rode an early lead into a 65-54 win over the Brown and Gold. Freshman Amber Lindfors (Elk Grove Village, Ill./Elk Grove) rejected five shots to move into sixth place in program history for blocks in a season. Wright State guard Kim Demmings dropped in a game-high 17 points while Antania Hayes added 11.
Scott Sparks played in what could arguably be called the golden era of Purdue University Calumet men's basketball.
Head football coach Dave Cecchini announced another powerful, well-balanced recruiting class Thursday. 27 players officially signed Letters of Agreement between Wednesday's National Signing Day and Thursday morning.
Lake Central Team Captain and 2015 MVP Tori Gardenhire signed with Lady RedHawks Volleyball on Thursday, January 21st, 2016. Tori chose IU Northwest because she wanted to compete at the collegiate level and stay close to home. "Volleyball has been such a huge part of my life and I was not ready to stop playing. I'm more of a home-body and I love being with my family, this was just the best fit for me in every aspect."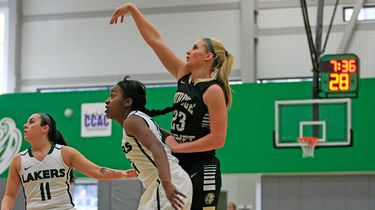 Deno Nets 39 in Purdue Calumet 104-91 Loss at Olivet Nazarene
Despite a career-high 39 points from junior Cassidy Deno, a late fourth-quarter comeback fell short as the No. 13 Purdue University Calumet women's basketball team fell to No. 6 Olivet Nazarene 104-91 Wednesday in a battle of NAIA ranked teams.
Sandy Love-Todd might not have considered herself a collegiate basketball player, at least not right away.
Jeffrey Schorsch (Perrysburg, Ohio/Perrysburg), the reigning Horizon League Player of the Year, earned his first Player of the Week honor of the 2015-16 season Tuesday.
The Purdue University Calumet men's basketball team defeated Great Lakes Christian College, 76-47, in a non-conference matchup Monday night at the Fitness and Recreation Center.
#18 Purdue Calumet Holds Off Roosevelt for 82-71 Victory
The No. 18 Purdue University Calumet women's basketball team held off a furious fourth-quarter rally from host Roosevelt University for a 82-71 Chicagoland Collegiate Athletic Conference victory Saturday at RU's Goodman Center.
More College & Pro Articles: