Valparaiso University men's soccer player Ramone Howell (Portmore Jamaica / Jamaica College) has been named to the 2017 Missouri Valley Conference Preseason All-Conference Team, which was released on Thursday.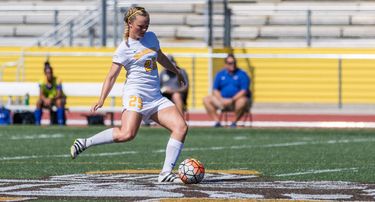 Entering its first season of Missouri Valley Conference play in 19 years, the Valparaiso University women's soccer team has been picked to finish in fifth place in 2017 according to preseason polling of the conference's head coaches. In addition, junior forward Cory Griffith (Lemont, Ill./Providence Catholic) has been selected to the 11-player preseason All-Conference squad.
From the outside, the hype over region athletics may not seem that exciting, but for the athletes training each day, it's a huge part of their high school or college careers. While that may not appeal to everyone, it's exactly what Jackson Long, a senior at Lake Central High School, loves about the area.
Valpo Releases 2017-18 Men's Golf Schedule
The Valparaiso University men's golf team has announced its schedule for the 2017-18 season. The slate includes five fall events and six spring tournaments.
The RailCats welcomed members of the Boy Scouts of America to spend the night at the Steel Yard to emphasize the value of fun, family, and friends at their Scout Night Campout and Touch a Truck night.
The Gary SouthShore RailCats (39-30) were unable to complete the three-game sweep in the Lone Star State as the Texas AirHogs (26-42) took Tuesday's tilt by a score of 5-1. This is the second consecutive series where the RailCats dropped the series finale in attempt of sweeping their opponent.
A complete game performance from Alex Gunn and four RBIs from Wilfredo Gimenez on Sunday night led the Gary SouthShore RailCats (38-29) to a 10-1 win over the Texas AirHogs (25-41) in the series opener. Gary never trailed on the night and scored seven of their 10 runs with two outs.
The Association of Independent Institutions (A.I.I.) is proud to announce the 2016-17 annual administrative award winners. Steve Shepherd, College of the Ozarks, was selected as the A.I.I. Athletics Director of the Year; Anna Villanueva, Indiana University Northwest, was chosen as the A.I.I. Sports Information Director of the Year; and Cathy Courtney, Fisher College, has been named the recipient of the A.I.I. Athletic Trainer of the Year.
Crusaders Announce Additions of Kenyatte, Carvajal
The Valparaiso University men's tennis program continues to attract high-level players as two more have signed National Letters of Intent to further their careers with the Crusaders.
The Gary SouthShore RailCats (37-28) used a two-hit shutout to complete the day-night doubleheader sweep over the Salina Stockade on Thursday. Gary scored the game's only runs in the seventh and have now won three consecutive games.
Men's Tennis Earns Academic Honor
The success of the 2017 Horizon League champion Valparaiso University men's tennis team extends beyond athletic competition.