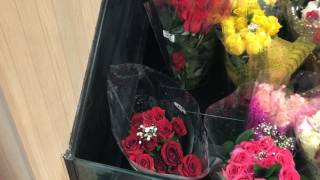 Strack & Van Til's Valparaiso location at 2168 W. Highway 30 will celebrate the completion of an extensive remodel with a grand re-opening event on Wednesday, January 18th beginning with the ribbon cutting at 9:00 am. Everyone in the Valparaiso community is invited to come see the improvements made to make their grocery shopping experience more enjoyable. Shoppers will find a vast new set of offerings in the newly remodeled store. Many of which have not before been seen in a grocery store in Valparaiso.
We talked with Jeff Leverich of Leverich Painting & Decorating as his team was in the midst of renovating the Memorial Opera House in downtown Valparaiso.
Vale Park Animal Hospital does more than take care of your pet - they also make sure they're taking care of their community. We recently sat down with one of Vale Park's founding doctors Dr. Jerry to go over why he and his staff value the community they live in.
Who makes Life possible? If you like Life and our positive news focus, thank the people in this video. Without them, all the good news pics, stories, and videos you see on ValpoLife.com, PortageLife.com, LaPorteCountyLife.com, and NWIndianaLife.com would not be told.
NIPSCO is a name that everyone knows in the region - but did you know that the employees of NIPSCO each year raise $50,000 for a non-profit? The employee's Charity of Choice Campaign is the pride of the company, and we recently caught up with NIPSCO's Executive Vice President Violet Sistovaris to talk over Charity of Choice, and their recent fundraiser. For more information visit: NIPSCO.com/Community
With ValpoLife.com, PortageLife.com, LaPorteCountyLife.com, and NWIndianaLife.com, Ideas in Motion Media is spreading good news throughout Northwest Indiana. Through photos, videos, articles and events, it has never been easier to spread positive news on the LIFE network. Through our websites, social media networks, e-mail newsletters, YouTube channel, we make it known that there is an abundance of good news in Northwest Indiana.
A common theme among successful teams: camaraderie. See how the team at Steindler Signs keeps it light when they're creating their professional products.
We published several hundred videos to the ValpoLife.com Video section this year. Videos about local events and more in Northwest Indiana were fair game for good news.
4,000 runners came to the 2016 Valparaiso Turkey Trot benefitting Porter-Starke Services on Thanksgiving morning and Trevor Mahlmann captured it for Ideas In Motion Media Check out more at nwindianalife.com valpolife.com portagelife.com and laportecountylife.com
The partnership between Fiddlehead (based in Michigan City) and Sims Meat Processing (based in La Porte) ensures that only the highest-quality meats make it to Fiddlehead, keeping the local economy strong.
Can you believe it is already November? While the weather is still decent, get out and get active! There are plenty of opportunities to get your holiday shopping started, see a show, and so much more! http://www.nwindianalife.com/features/10-fun-things-to-do-in-nwi/62346-10-fun-things-to-do-this-weekend-in-northwest-indiana-november-4-6-2016