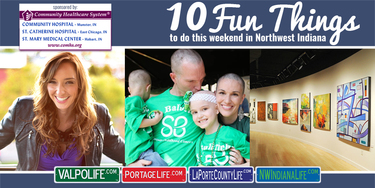 ♪♪ Should old acquaintances be forgotten... ♪♪ Bust out the champagne (or sparkling grape juice), because 2016 is outta here this weekend. We have your weekend guide for 10 Fun Things to Do this Holiday weekend in Northwest Indiana! You can see all of the events happening on the Northwest Indiana Event Calendar and if you have something going on make sure we know about it with an email to This email address is being protected from spambots. You need JavaScript enabled to view it.!">This email address is being protected from spambots. You need JavaScript enabled to view it.!
The holiday season is sweeping the region with some great community events this weekend! You can always see all the events going on with our Northwest Indiana Event Calendar, but we found a few below that might get you in the holiday spirit!
♫♫ Jingle bells, jingle bells, Christmas is on the way! ♫♫ Well, maybe we're jumping the sleigh on that one, but there are tons of Christmas parades and events this weekend. You can see all of the events happening on the Northwest Indiana Event Calendar and if you have something going on make sure we know about it with an email to This email address is being protected from spambots. You need JavaScript enabled to view it.
There are still a few days of some nice fall weather, so why not take advantage? There are some great events happening this weekend for fans of everything from ice skating to football to dancing. As always if you have an event going on, let us know with an email to This email address is being protected from spambots. You need JavaScript enabled to view it..
Can you believe it is already November? While the weather is still decent, get out and get active! There are plenty of opportunities to get your holiday shopping started, see a show, and so much more!
As always, if you have something going on, drop us a line at This email address is being protected from spambots. You need JavaScript enabled to view it. and we'll add it to our calendar!
It's the weekend before Halloween! The ghosts, ghouls, and trick or treaters will be out and about with Halloween events all weekend! But there's more than just Halloween events happening - check out our 10 Fun Things list below, or click on our calendar dates for Friday, Saturday and Sunday.
Can you believe we're already halfway through October? There's plenty of fall fun throughout Northwest Indiana as more and more Halloween activities continue to take place. Have an event? Make sure we know about it with an email to This email address is being protected from spambots. You need JavaScript enabled to view it..
All Friday events | All Saturday events | All Sunday events