Several studies clearly show that physical activity contributes to enhanced mental health as well as maintaining a "younger" brain. However, by strictly focusing on physical forms of exercise, we tend to forget the merits of cognitive, or brain, exercises.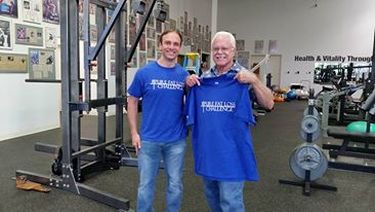 THE PURE FAT LOSS CHALLENGE (the PFLC) is a fun, unique and challenging 12 week, (starting January 1st) high accountability program designed to support, teach, lead and guide those who are serious about shedding their unwanted body fat. Most people find it fun being part of a team of motivated people all working towards the same goal.
Patients at Franciscan Health Crown Point soon will have another reason not to travel to big city hospitals for the latest surgical advancements that offer smaller incisions, less pain, faster recoveries and shorter hospital stays, even for complicated procedures.
Chiropractic is a very effective treatment for back pain, but what many patients don't realize is that there are things they can do to make it even better. By employing simple stretches, a chiropractic patient can improve his or her range of motion and increase flexibility. These are some great stretches that you can do at just about any fitness level.
This online version of the Childbirth Education class offers an alternative for women and their support person who cannot attend a conventional prepared childbirth class due to bed rest, scheduling conflicts or time constraints.
If you are one of the 400 million people who needs to lose weight and have tried to lose excess pounds repeatedly in the past without success, there is new hope in the form of a minimally-invasive procedure being offered at Community Hospital in Munster.
Every day, people decide to delay or skip important health screenings because they are apprehensive. Most of the fear comes from the unknown. Porter Health System professionals are weighing in on three important diagnostic tests that can help calm your fears and maybe even save your life. To schedule any of the exams at Porter Health Care System sites, call (219) 983-8399.
Good posture is more important than many people realize. Many a mother has followed her child around, reminding him or her to "stand up straight!" Not everyone knows all the reasons that this is important, but they should. Good posture is essential to good spinal health as well as good overall health.
Wouldn't it be awesome to shed off unwanted body fat?
It's that time of the year many of us have slipped from a new year's resolution 11 months ago. It's been challenging throughout the year with birthdays, Memorial Day, 4th of July, Labor Day, Halloween, Thanksgiving, upcoming Christmas parties, etc. Let's not forget "ground hog" day… You know what I mean, right? Where this year seems just like last year, which was just like the previous year and so on.
Before the turkey comes out of the oven and the pumpkin pie is devoured, families and friends of Northwest Indiana partake in a Thanksgiving tradition that promotes community-wide health. The 14th annual Turkey Trot, hosted by Porter-Starke Services, attracted 4,000 runners to Valparaiso High School this year. Runners of all ages took to the streets, competing in either the 5K or 10K. Though the race meant something a little different for each runner, the common goal of celebrating the holidays with family was shared by all.
Here's a unique new salad recipe to try, that's far from ordinary. With cabbage, green olives, chickpeas, quinoa and a lemony dressing, this salad really satisfies! It's fantastic as a meal all on its own, or to be served with a larger meal.