Bailey Leads Purdue Northwest on Day 1 at TPC Deere Run Invite
Freshman Lauren Bailey led the way for the Purdue University Northwest women's golf team on Day 1 of the TPC Deere Run Invitational at the Midwest Collegiate Championships Monday.
Valpo Continues to Rack Up Weekly Men's Tennis Honors
After a flawless Horizon League weekend, the Valparaiso University men's tennis team continued to dominate the league's weekly awards on Tuesday.
Attached is a list of Hoosier Basketball Magazine's Top 60 senior boys' basketball players for 2016-2017 as compiled by Hoosier Basketball Magazine. These boys were selected from approximately 1,600 senior players statewide. This event will be at Beech Grove High School on Sunday, April 2, 2017.
Kelly Grassel is just like any typical college student. Except, she spent her childhood on the golf course. Except, she was a high school state tournament golfer. Except, she is now a Division-1 college athlete. Except, she is on her way to becoming a professional golfer. This "normal" girl found her passion on the golf course at Sand Creek Country Club and returns to her roots to practice her swing whenever she can.
SOFTBALL: PNW Splits with Aquinas; Payne Has Big Offensive Day
Kyleigh Payne saved her sixth home run of the season for a clutch moment in Friday's nightcap, when her two-run swing tied the game against visiting Aquinas (Mich.) College in a two-game split for the Purdue University Northwest softball team. Payne (Bourbonnais, Ill./Bishop McNamara) belted a two-run shot over the center field fence in the bottom of the seventh inning of Game 2 to tie the game at 3-all and send it into the eighth, where both teams would score a run before the game was called a 4-4 tie due to darkness.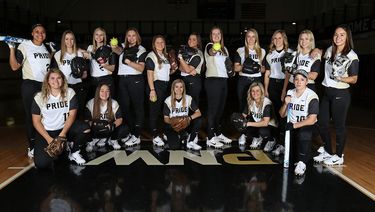 The Purdue University Northwest softball team's originally scheduled home Saturday games with Chicagoland Collegiate Athletic Conference opponent Saint Ambrose University have been rescheduled due to inclement weather.
Fifteen seniors and 15 underclass boys basketball players have earned IBCA/Subway "Supreme 15" All-State honors for 2016-17, it was announced Thursday (March 23).
McDonald's golden arches saw a sea of orange today as the West Side girl's basketball team gathered in Gary on Thursday to celebrate the success of their former teammate, Dana Evans.
Crusaders Announce 2017 Spring Schedule
Valparaiso University volleyball head coach Carin Avery announced today her team's schedule for the spring season, including a home date at the ARC against Western Michigan on Friday, April 7 at 6 p.m.
PNW Softball Drops Doubleheader to Cornersttone Tuesday
The Purdue University Northwest softball team dropped two decisions to Cornerstone University Tuesday afternoon.
Crusaders Round Out Twin Oaks Intercollegiate
The Valparaiso University men's golf team closed out the Twin Oaks Intercollegiate in Springfield, Mo. on Tuesday. The Crusaders finished the event in ninth of 11 teams with a team score of 904. Peter Webb (Madison, Wis. / James Madison Memorial) paved the way with a 217 (+4) to finish tied for seventh of 69 total players.