The Porter County Career and Technical Center's Video Production and Media Studies class will produce a live video broadcast of the Valparaiso Vikings vs. Penn Kingsmen football game live on ValpoLife.com!
Valparaiso University men's soccer player Ramone Howell (Portmore Jamaica / Jamaica College) has been named to the 2017 Missouri Valley Conference Preseason All-Conference Team, which was released on Thursday.
La Porte – Fox Memorial Park – Thrills N Spills Skatepark
Truesdale Ave, La Porte, IN 46350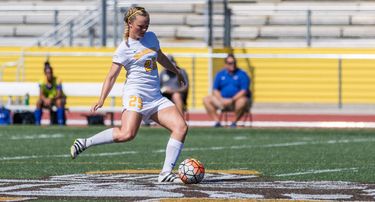 Entering its first season of Missouri Valley Conference play in 19 years, the Valparaiso University women's soccer team has been picked to finish in fifth place in 2017 according to preseason polling of the conference's head coaches. In addition, junior forward Cory Griffith (Lemont, Ill./Providence Catholic) has been selected to the 11-player preseason All-Conference squad.
From the outside, the hype over region athletics may not seem that exciting, but for the athletes training each day, it's a huge part of their high school or college careers. While that may not appeal to everyone, it's exactly what Jackson Long, a senior at Lake Central High School, loves about the area.
One size does not fit all at Sand Creek Country Club. Memberships – Dining, Golf, Athletic – you choose the best fit when it comes to joining Sand Creek.
Valpo Releases 2017-18 Men's Golf Schedule
The Valparaiso University men's golf team has announced its schedule for the 2017-18 season. The slate includes five fall events and six spring tournaments.
The RailCats welcomed members of the Boy Scouts of America to spend the night at the Steel Yard to emphasize the value of fun, family, and friends at their Scout Night Campout and Touch a Truck night.
The Gary SouthShore RailCats (39-30) were unable to complete the three-game sweep in the Lone Star State as the Texas AirHogs (26-42) took Tuesday's tilt by a score of 5-1. This is the second consecutive series where the RailCats dropped the series finale in attempt of sweeping their opponent.
A complete game performance from Alex Gunn and four RBIs from Wilfredo Gimenez on Sunday night led the Gary SouthShore RailCats (38-29) to a 10-1 win over the Texas AirHogs (25-41) in the series opener. Gary never trailed on the night and scored seven of their 10 runs with two outs.
Sauers Buick GMC hosted their annual "Test Drive a New Buick" event with the New Prairie High School football team, the perfect way to connect today's youth with the Sauers team and raise money for the Cougars.