Crown Point's Alexis Holloway led a senior-laden group of Bulldogs to the first place in the Duneland Athletic Conference this season and was honored with the Conference MVP for her efforts! The second place Lake Central Indians led the conference in representatives with four.
The first place Chesterton Trojans swept the Most Valuable Player polls for pitchers and position players as the Duneland Athletic Conference named its 2017 All-Conference Team.
After being postponed on Saturday, the Gary SouthShore RailCats avoided being swept on the road by the St. Paul Saints for the second straight season by taking game two of Sunday's doubleheader, 10-3. Gary left a season-high 12 runners on base in game one and was shutout, 4-0, for the team's third consecutive defeat.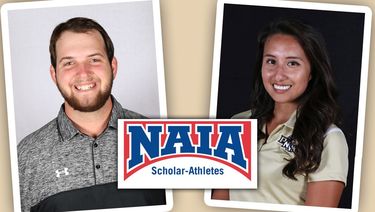 Purdue Northwest's Baez, Mudd Earn NAIA Scholar-Athlete Honors
Purdue University Northwest tennis players Selina Baez and Patrick Mudd both earned Daktronics NAIA Scholar-Athlete honors, as announced by the NAIA office Friday.
The Gary SouthShore RailCats announced earlier today that they have signed LHP Jack Fowler and released INF Jack Parenty on Wednesday.
Hanson Recognized on Horizon League All-Academic Team
Valparaiso University senior Jake Hanson (Yorkville, Ill. / Aurora Christian) was honored by the Horizon League on Friday as the league announced its 2017 baseball all-academic team.
Mark Hambuger and Charle Rosario exchanged scoreless frames through the first five frames in their season debuts, however, a two-out, five-run sixth inning propelled the St. Paul Saints to a 5-2 win over the Gary SouthShore RailCats on Thursday night at CHS Field in front of 8,294 fans. Hamburger (1-0) retired 10 straight at one point and didn't allow a single baserunner to reach third base until the ninth inning while Rosario (0-1) retired 14 conseutive batters and struck eight over 5.2 innings.
Our basketball camps are a great opportunity for any boy who enjoys playing basketball and are interested in having fun learning more about what it takes to become a better basketball player. The focus of our camps is to introduce and teach young players the proper skills required to become the best basketball player they can be. In addition, they will have the opportunity to spend time with and learn from the Valparaiso Coaching Staff and work with and spend time with the current Valpo basketball players. Please give every consideration to allowing your son to attend.
Something was slightly off about the Portage Vs. Valparaiso baseball game on Tuesday. The Indians wore baby blue instead of their normal red and the Vikings wore jerseys with pink lettering. These little differences all added up to a great cause...
Rhodehouse Honored as Horizon League Pitcher of the Week
The stellar performance of Valpo freshman Easton Rhodehouse (Gilbert, Ariz. / Highland) was recognized by the Horizon League as the league unveiled its weekly awards on Monday.
American Association commissioner Miles Wolff announced that Rosemont, Ill., was granted an expansion membership in a unanimous vote of league directors on Tuesday, May 9. The club, owned by Steven Gluckstern and Shawn Hunter, will begin play in May 2018 in a new $55-million, 6,300-seat stadium.